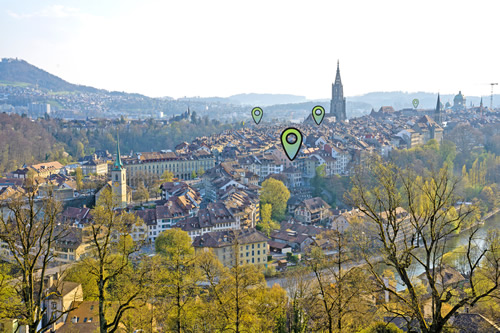 The Bern tertiary students' association for sustainability, BENE (Verein für nachhaltige Entwicklung an den Berner Hochschulen), has just issued an app for sustainable consumption in Bern. Named "BENE Stadtplan" (BENE city map) and featuring over 170 businesses in Bern, this online guide is the outcome of a project supported by swissuniversities, the University of Bern, and the SUB (student association of the University of Bern). The dedicated small team who created the app were motivated by a desire to help everyone in Bern make conscious decisions about consumption and lifestyle, based on sustainability criteria.
---
Sustainable consumption in Bern: new app and new website offer useful overview
The "BENE Stadtplan" (BENE city map) consists of a new app and new website for sustainable consumption in Bern. The online map features businesses of all kinds – from restaurants to clothes and grocery shops – and invites users to discover the city of Bern from the perspective of sustainable development.
BENE city map is run by BENE, the Bern tertiary students' association for sustainability. The association developed the app and website to offer guidance for decisions about sustainable consumption and lifestyles. Users can gain an overview of sustainable businesses in Bern and search through them according to nine categories such as "clothes" and "restaurant". They can also use eight ecological and social criteria as filters. "Before I started using the BENE city map, I used to buy my clothes in the same two or three sustainable businesses but I could never find jeans that fitted. Thanks to the app, I found some at last", remembers Franziska Uebelhart, who subsequently became an active member of BENE.
An intentional focus on smaller and less well-known businesses
The search criteria and sustainability coding are applied based on the information found on the businesses' websites. If a business wants to be featured on the city map, it must fulfil at least one of the eight sustainability criteria. The declared aim of the map is to remain up-to-date: Businesses and consumers can inform the BENE team if they find an offer that is missing on the website or app. The focus of the city map is explicitly on smaller and less known businesses.
Discover unknown stores!
To make users aware of the whole breadth of sustainable businesses, once a month the team portrays favorite businesses while an "inspiration generator" makes it possible to discover unknown stores. The app is free of charge and can be downloaded using App Store or Google Play. In addition to the website, the app features a location display and allows saving of favorites.
Who is behind the "BENE city map"?
The core team is a group of people who are enthusiastic about sustainable development and who work with great passion and on a voluntary basis for the city map. To develop the app and website, the BENE project group collaborated with the Centre for Development and Environment (CDE) of the University of Bern.
► Download the app in App Store (iOS): https://apps.apple.com/app/id1559632423
► Download the app in Google Play (Android): https://play.google.com/store/apps/details?id=com.bene
► Website: www.bene-stadtplan.ch (only available in German)