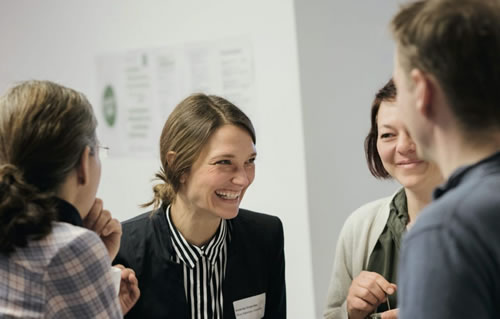 Researchers at the Wuppertal Institute, Leuphana University of Lüneburg and Freie Universität of Berlin developed a handbook for the promotion of transformative and transdisciplinary competences within the framework of a new learning format called "Transformative Innovation Lab".
---
Science and education are central domains and drivers of sustainable development. In the context of transformation research and transformative research, increasing numbers of actors in this field contribute to shaping a sustainable future. In the project "Development, testing and dissemination of new qualification offers for 'change agents' for transformative learning using the real-world laboratory approach" (EEVA), led by the Wuppertal Institute, researchers developed and tested a new learning format: the Transformative Innovation Lab (TIL). In the TIL, students learn how to research real-world problems in real-world labs co-created with practitioners. The TIL operates at the intersection between an experimental, sustainability-oriented mode of innovation and transformative learning for sustainable development. Integrated into existing education modules, it creates learning environments that promote both systemic analysis of transformation processes and the development of key competencies for their strategic design.
The TIL was tested in two cohorts at the Leuphana University of Lüneburg in the Master's programme in Sustainability Science and at the Freie Universität of Berlin in the Master's programme in Futures Studies. Based on these experiences, a didactic model was developed and translated into a handbook.
With in-depth coverage of both theoretical and practical dimensions, the handbook describes the implementation of this transformative and transdisciplinary learning and teaching format. It contains:
A theoretical classification and contextualisation of sustainability, education, real-world labs and transformative research.
A detailed inside view into the two-year pilot run and comprehensive description of all phases with their content, learning objectives, recommendations for academic implementation and ideas for suitable formats.
A step-by-step description of the implementation processes in a TIL, complete with numerous tips and tricks, including suggestions for integration into curricula, notes on planning and preparing a TIL, and lessons from past TILs on topics such as peer learning, using a simulation game or incorporating issues like role awareness, ethics in transformative research, and personal development.
The handbook was presented to the expert public during a final digital workshop in mid-November. More than 50 multipliers from non-governmental organisations (NGOs) and network organisations as well as lecturers at German-speaking higher education institutions took part in the workshop and discussed the various options for implementing appropriate learning and teaching formats. A documentation of the event can be found in the links provided below.
Under the leadership of the Wuppertal Institute (Division of Sustainable Production and Consumption) the project was implemented jointly with the Freie Universität of Berlin (Institut Futur) and the Leuphana University of Lüneburg (Faculty of Sustainability) in the period October 2017 to December 2020. The project was funded by the Deutsche Bundesstiftung Umwelt (DBU).
The handbook, including the exercises used, literature lists, and other materials as well as further information on the project can be found in the following links:

► Transformative Innovation Lab: Handbook to facilitate students' real-world laboratory projects to promote transformative and transdisciplinary competencies
► EEVA – Development, Testing and Dissemination of New Qualification Offers for "Change Agents" for Transformative Learning Using the Real-world Laboratory Approach