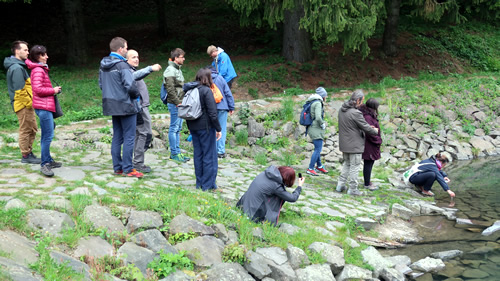 BIOPROFILES is an Erasmus+ project from the Autonomous University of Madrid seeking to develop environmental and sustainability competences of school children in four European countries: Slovakia, Italy, the United Kingdom and Spain. Through an active learning approach, the project is working with teachers in exciting learning projects and methodologies.
---
Following up from the themes and indicators developed in the previous Erasmus project ENVIMOBILE (see table 1), this new initiative will work with school teachers to test key indicators in their classrooms. Competences such as mathematics, science, social issues, foreign language, native language, entrepreneurship, learning to learn, the development of autonomy and social interaction will be central to the methodology proposed by the project where students will be at the centre of learning and teachers, learning facilitators. Project findings will be presented at national conferences in October-November 2020.
Project objectives
1. Support teaching professional development by acquiring competencies to actively apply environmental issues in a cross-cutting manner.
2. Design, test and evaluate innovative open educational materials and resources in different subjects in the digital age.
3. Apply student- and project-based methodologies to strengthen relevant teamwork and competencies.
4. Know with indicators the local environment to increase awareness of change and sustainability.
Expected results:
1. An international teacher training programme
2. A basic environmental education guide – (Environmental minimum)
3. A guide document with indicators for teachers and students at the global level
4. A general collection of multi-format and multi-level indicators
The activities will be carried out in the classroom and outdoors, with a multidisciplinary research component using internet information and a digital competency component to work with pre-existing and collected data on site under common protocols and as part of cooperative and collaborative work in the classroom. The communication competence will be doubly strengthened during the presentation of results at the local level in the mother tongue by students and teachers, as well as for the international dissemination of the project at European level as it will be carried out in foreign language (English). In December 2020, the project will launch an open educational resource (OER) for the global educational community with results from at least five schools in each participating country.
Table 1. Topics and indicators of the BIOPROFILES Project developed in 20 educational centers from Slovakia, United Kingdom, Italy and Spain
AIR

Rain water acidity

CO2 production

WATER

Water capacity retention

Saving water

ENERGY

Ecological footprint

Standby mode analysis

WASTE

Illegal dumping

There is an alternative

BIODIVERSITY

Ecosystem services

Invasive species

HUMAN ENVIRONMENT

Green public spaces

Noise measurement

NATURAL & CULTURAL LEGACY

Emotional mapping

Getting out of our heritage
More information: www.teachinggreen.eu
Authors: J.D. López Giraldo; M. Martínez Baez; A.M. Sánchez Fernández; A.M. Gea Jiménez;E. Orenes Muñoz; J. González Fernández; I. Fernández García, E. Cavas Ortega
Project partners: INAK. Adriana Kovacova; STROM ZIVOTA. Jozef Khan; IBE- CNR. Luciano Masseti and Francesca Ungolini; LTLS. Ruth Staples-Rolfe and Mary Jackson