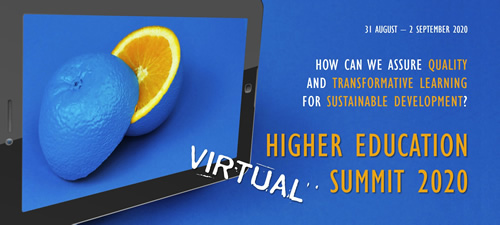 It couldn't be easier: Switch on your computer, click on a link and join the Virtual Higher Education Summit 2020 (#HES2020) from 31 August to 2 September 2020. Connect with like-minded and like-hearted colleagues and share experiences and insights on how we can assure quality and transformative learning for sustainable development in this forward looking event.
Among our confirmed speakers are: Rietje van Dam-Mieras, Dzulkifli Abdul Razak, Christoph Grolimund, Elizabeth Lange, Mandy Singer-Brodowksi, Hilligje van't Land and Marie-Claire Graf!


---
3 reasons to participate at the #HES2020:
Let's be honest, you have spent the last few months literally attached to your computer: Why should you participate in yet another virtual conference?
The #HES2020 is not "just another virtual event". It is the virtual conference of the year for those engaged in higher education for sustainable development.
Last year the COPERNICUS Alliance hosted its first online conference ever, as one of the first HE networks engaging in this kind of conference formats. Our learning has grown exponentially and this year we're working on delivering a really high-quality and creative event that will surprise you every minute.
You will not be bored or distracted from being connected for so long. This conference is a truly co-creative event: Our sessions are about discussing issues together, collaborating, and learning from each other. Watch videos in advance, comment on your colleagues' posters, get to know real transformative projects through online excursions, meet key experts in the field personally though virtually… Your harvest will be meaningful and plentiful!
About the #HES2020
The international event addresses the question "How can we assure quality and transformative learning for sustainable development?" and is co-organised by the COPERNICUS Alliance, saguf, td-net, the University of Bern, and the University of Lausanne.
In the recent past, transformative learning has gained importance in formal education, with an interest that is now increasingly coming from higher education institutions, especially in relation to sustainable development. To date, however, little systematic knowledge and experiences exist on transformative learning at tertiary level, on what it implies for teaching and learning arrangements, on what challenges need to be met when developing courses and curricula, on the competences faculty staff need to have, on what structures are needed to support development of transformative learning and corresponding professional development at tertiary level, on what this implies for higher education institutions, educational policy, and quality assurance systems, on what active role students can play in fostering transformative learning for sustainable development, and on how this influences the relation between higher education institutions and society.
An additional, rarely addressed issue is that – while research on the different stakeholders involved in higher education policy and practice exists – there are very few opportunities for the relevant actors to enter into an exchange about the implications of integrating transformative learning and sustainable development into the higher education system. Rarely do the relevant communities talk to each other and reflect together on how the challenges can be jointly addressed.
The conference organizers have formulated a series of challenges and related questions that will constitute the core of debates and interaction during the Virtual Higher Education Summit. The #HES2020 will enable participants from a number of different stakeholder and expert groups interested in transformation towards sustainable development to meet beyond their "natural borders" and to discuss both research and practice-related issues.