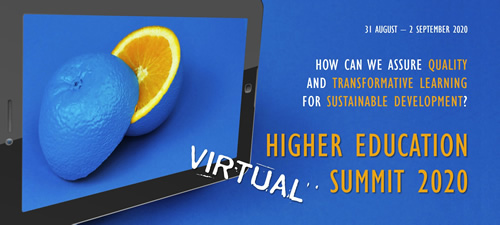 Propose forward-looking HESD issues for debate, present the bugs you want to improve in solutions you tested, join others for co-creating new initiatives, meet ESD-minded people from unexpected communities, and help us achieve a more systemic and effective understanding of how to enable transformative learning for sustainable development while also assuring quality at higher education institutions! We invite you to submit your contributions to the HES2020 before 6 April 2020 (extended deadline!).
---
Call for Contritutions
Submissions are possible until 6 April 2020. They will be screened by a mixed panel of renowned researchers and teachers, professional development specialists, and quality assurance experts. Notifications of acceptance will be issued by 30 April 2020.
You can choose between different formats; joint submissions across communities are most welcome! Please read more about the Call on the HES2020 website.
► HIGHER EDUCATION SUMMIT 2020: Call for Contributions
HIGHER EDUCATION SUMMIT 2020
In the recent past, transformative learning has gained importance in formal education, with an interest that is now increasingly coming from higher education institutions, especially in relation to sustainable development. To date, however, little systematic knowledge and experiences exist on transformative learning at tertiary level, on what it implies for teaching and learning arrangements, on what challenges need to be met when developing courses and curricula, on the competences faculty staff need to have, on what structures are needed to support development of transformative learning and corresponding professional development at tertiary level, on what this implies for higher education institutions, educational policy, and quality assurance systems, on what active role students can play in fostering transformative learning for sustainable development, and on how this influences the relation between higher education institutions and society.
An additional, rarely addressed issue is that – while research on the different stakeholders involved in higher education policy and practice exists – there are very few opportunities for the relevant actors to enter into an exchange about the implications of integrating transformative learning and sustainable development into the higher education system. Rarely do the relevant communities talk to each other and reflect together on how the challenges can be jointly addressed.
The conference organizers have formulated a series of challenges and related questions that will constitute the core of debates and interaction during the Higher Education Summit. The HES2020 will enable participants from a number of different stakeholder and expert groups interested in transformation towards sustainable development to meet beyond their "natural borders" and to discuss both research and practice-related issues.