Last years COPERNICUS Alliance Conference focused on Sustainability Transformation of Science Systems and took place from September 14th-15th 2016 in Vienna. The organizers made it an interactive event and fulfilled all conditions to call it a "Green Meeting" under the directive of the Austrian Eco Label.
All information and material is available at the conference website and now you can also watch a film that gives you an impression of the conference!
Summit Days - September 26th - 29th 2017, organized by the Universität Hamburg Center for a Sustainable University, is an international event that brings together several academic sustainability networks.
Key topics to be addressed at this interactive conference:
Contribution of Higher Education Institutions to global SDGs: What impact do SDGs generate on HEI and vice versa?
Sustainability at Higher Education Institutions (HEI): How is sustainability integrated into education, research, governance, operation and outreach? What good practice examples and cases can be identified for "whole institution approaches"? How can institutional sustainability strategies be developed and implemented.
CA members are eligible to a reduced fee of 100 EUR. More information about registration can be found here.
Summit webpages: https://www.hsds.uni-hamburg.de/
IAU/Palgrave and CA are pleased to announce the call for papers for a special issue of the Higher Education Policy Journal "Higher Education and Research for Sustainable Development: A New Academic Discipline?". The aim of the two Prizes, each awared with 2 000 EUR, is to promote research in the field of higher education policy by recognizing outstanding work by two scholars: one from IAU and one from CA Member Institutions or Organisations.
Deadline for submission of abstracts: 28th February 2017.
More information: http://iau-aiu.net/sites/all/files/IAU_CA_Essay%20Prize%20competition_2016-17_for%20web.pdf
On-line registration for interactive sessions is closed now, if you did not register till now, you can do that at the registration desk of the conference.

The Copernicus Alliance Conference will be organised under the "green meeting" directive by the Austrian Eco Label. This means the implementation of a number of visible and non-visible measures. In order to reach this important goal, we need your cooperation and understanding concerning the following issues: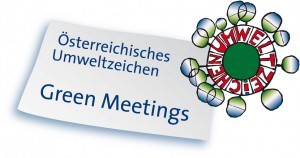 Julia Buchebner (Center of Global Change and Sustainability, BOKU Vienna) will be our official Green meeting agent. She is looking forward to answering your questions at the Conference venue.
If you live within a radius of 750 km around Vienna, we strongly recommend you travel to Vienna by train.
Please avoid taking taxis where possible.
Our recommended hotels are certificated as eco-friendly accommodation.
We ask you to kindly use the excellent Viennese public transport system or rented bikes whenever possible.
If you need to travel by airplane, please offset your carbon emission.
All information about transport to/in Vienna (public, bikes, carbon offset...) are available here.
You will not receive any welcome bag or conference map.
Writing pads and pens will be available in the main room and the session rooms.
The schedule will be displayed on central poster walls.
Zeiler Organic Kitchen is our caterer and will prepare organic, vegetarian and/or vegan (and very delicious!) dishes.
Please avoid waste whenever possible and please use the waste separation system.
Please avoid plastic bottles. Vienna provides an excellent crystal clear tap water from the Alps, and we will of course serve high quality drinks and tap water.
If you have any feedback regarding "Green Meeting", please use our official Green meeting feedback form. The link to the feedback form will be available from September 12th.
Together we can. Thank you very much for your collaboration!
Location: Vienna, Austria
Topic: Sustainability Transformation of Science Systems
University of Natural Resources and Life Sciences, Vienna. We plan that the conference will be a certified "Green Event" .
The 2016 COPERNICUS Alliance Conference will focus on sustainability transformation of institutional, national and international science systems. It will reflect on policies and practices that support or hinder researchers and educators of higher education institutions to practice inter- and transdisciplinary approaches of science for sustainable development.
The conference will include interactive sessions and panels that allow participants to elaborate on their good practices, theoretical and empirical concepts. A call for contributions will be published soon.
The upcoming deadline for CA members to apply for Micro Funds of up to 1000 EUR is 31st May! More details on regulations and conditions can be found in the Micro Funds section.
Read about new projects, events and professional development opportunities in the field of higher education for sustainable development in the CA Autumn Newsletter.